Helloooo uolsssssssssssssssss it's about time I post something ok!
I am no cook like you guys, and all I do is toss everything into the kuali if I want to get something done. Or masak maggi. HAH!
But seriously? The crave for keropok lekor was too much. I was insanely excited when I found out (via Village Voice) that they were selling some in an obscure chinese restaurant somewhere in Brooklyn. Sorry la, malas aku nak bergerak sampai 1 jam nak makan keropok. I mean, the article said it as "sticky fish sticks", and since it's owned by Terengganu-ans? I assume it would be the keropok.
Fuck it.
I googled for the
recipe.
It was simpler than I thought!!!!!!!! WAHHH APA LAGI!!!!!!!!!!!!!!!!!
Went to the ASEAN Market in Queens (one stop after Jackson Heights), and bought:
Ikan kembung / Mackerel (other types of fish still work)
Mochiko (flour used to make mochi) - for those living overseas like I do, or tepung sagu. We want them sticky ;)
msg- ze important hair loss ingredient!
Katakuriko or potato starch (asians love these things for some reason) to make each lekor piece non-stickish.
----------------------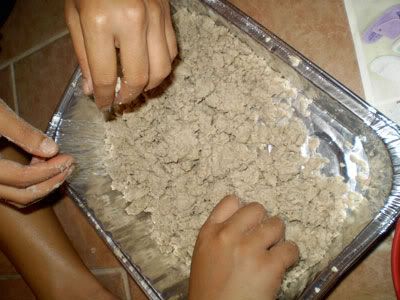 Air, garam, a tray or mangkuk to uli-uli the batter (batter?). Following the recipe, we skinned the fish, got rid of the bones (mackerels have very fragile bones btw, no worries about tertelan tulang), made shapes out of it.
I repeat, we made shapes out of it. A friend made lekor balls, one made lekor... er, missiles, and I? I am superbly creative. I molded the fish with my talented, magical hands into the shapes of leaves and bowls HAHAHAHAHA.
Otak aku nampak benda-benda tak senonoh dalam gambar ni sial
Boil the lekor until timbul, and deep fried them till it's good enough to eat! PUAS AKU MAKAN WOI!!!!!!!! Seriously a friend commented it took us 15,000 miles from home just to make the damn thing!!!!!!!!!
We also made:
Deep fried squids yang hampir gagal serta popiah sayur gorengggggggg!
brb dyin in happiness